Praiano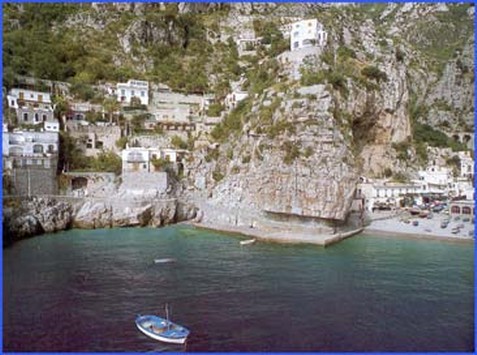 Praiano extends halfway up the hill, parallel to the sea, for a good stretch of road, upstream and downstream of the highway. Sparse houses, which at times are grouped together, then return to spread out in the green. Every now and then, a more or less wide stairway winds through the houses to descend down to the impervious and high coast, between terraces of lemons and flowery Mediterranean scrub.
Here and there, a cove, a small beach, a corner of paradise. For example, the marina of Praia, the only true port of this rugged stretch of coast straddling Capo Sottile.
Peasant country and noble past, Praiano: it was the seat of an Angevin university, summer residence of the Amalfi doges, even place of production of precious silks. All this brought wellbeing and economic development, which however could not be completely accomplished due to the preponderance of nearby Amalfi. Not unlike the other villages of the Amalfi Coast, then, Praiano shared the decline of the powerful Maritime Republic, until he became aware of the bitter poverty of the last centuries and of the beginning of the twentieth century.
Then came tourism, first that of the great travelers, then that of ordinary people, Italians and foreigners.