Amalfi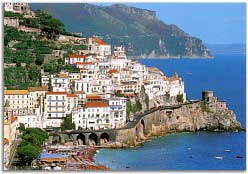 Amalfi is the pearl of Campania, in the province of Salerno, located on the southern coast of the Sorrento peninsula, the famous Amalfi Coast. Founded according to tradition by the Romans in the 4th century AD and a bishop's seat from the 6th century, it was subject to the Eastern Roman Empire and the Longobards. Conquered autonomy in the ninth century, it was established as a maritime power in the X-XI centuries, founding emporiums in the main Mediterranean ports and numerous colonies in Naples, Sicily, Puglia, Tripoli and Constantinople. Passed to the Normans (1073), in 1135 it was sacked by rival Pisa, then rising under the Swabians. The city always suffered commercial competition from the other maritime republics (Pisa, Genoa, Venice). In the following centuries it became a fief of various noble families (Sanseverino, Colonna, Orsini, Piccolomini). Its maritime laws (XI-XII centuries), transcribed in the famous Amalfi Table conserved in the Civic Museum, were used in the Mediterranean until the sixteenth century, during which the city definitively decayed.
In 1953, in the necropolis of San Montano in Lacco Ameno, the German archaeologist Giorgio Buchner found the cup of Nestor, dating back to 725 BC. about. It is the oldest example of a poem written in Greek.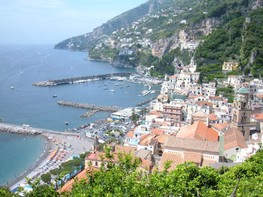 In today's center, which rises partly on a slope and is characterized by white houses built on terraces, the main monument is the Duomo (X century, redone), with a facade of 1891; noteworthy is a bronze portal fused in Constantinople (XI century), the bell tower (1180-1276) and the cloister of Paradise (XIII century), with narrow intertwined acute arches.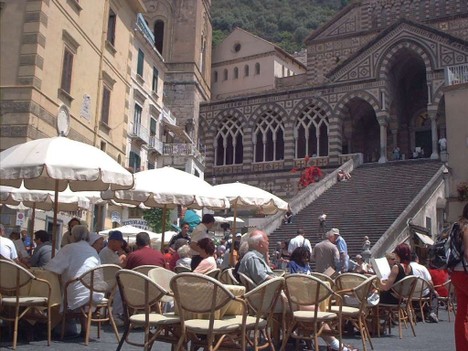 Along the p
icturesque village you enter the valley of the Mills, with two of the ancient paper mills still in operation and a small paper museum. The local economy is mainly based on tourism, thanks to the beauty of the surrounding landscape and the mild climate, which make Amalfi one of the most famous centers of stay in Campania, frequented throughout the year. At about 5 km from Amalfi, along the coastal road that leads to Positano, you meet the spectacular scenery of nature that is the Emerald Grotto which can be accessed either by the SS.163 or by sea.