Furore Salerno in Campania.
Furore… approach us from Amalfi on the SP 366, a scenic country route winding it's way through the narrow valleys and gorges of the Costiera Amalfitana. The cliffs are intensely cultivated by the local farmers, wine and olives being the main produce. The name Furore originates in the area's ancient description, Furious Earth, derived from the furious and deafening sound of the waves breaking on the reef way down below.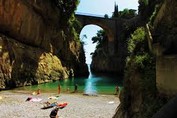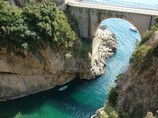 Along the roads you will encounter numerous murals and frescos on the public buildings. The wall paintings of Furore add up to a fantastic open air gallery of local contemporary art thus enabling Furore to add it's name to the list of Italy's most evocative decorated towns.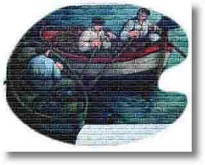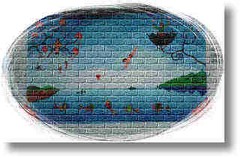 People have been populating the cliffs for hundreds of years – the "stubborn" farmers cultivating the sparse earth with terrace upon terrace of vineyards, olive trees, pomodrini, dry earth potatoes and aromatic grass. The fishermen defy the sea, the fruits of their efforts enriching their cuisine, producing original dishes like "totani and potatoes".Nowadays besides fish and wine, Furore offers the hospitality of many local residents – enabling guests to escape the bustle of the busy resorts like Amalfi and Sorrento for a quieter alternative. Guests in Furore have been amongst others: Luigi and Rosario Mazella, Lion, Padula, Better, and foreign artists like the German Fritz Gilow, the Pole Werner Wontroba and the Argentine Franc Mark Lopez Bernard. The Churches of S. Giacomo, S. Michele Arcangelo and S. Elia are open to the public. The Church of S. Elia is ancient. Works executed in the 1400 s have been conserved together with Baroque ornaments. An important painting representing the Madonna with Child is exhibited amongst other works of Antonelli Angel of Capua, XV.
Explore the old fjord on foot, using the natural ladder to reach the shady valley and original fisherman's village down below. You'll find a number of cozy pastel cottages clinging to the cliff by the cove – a fascinating example of life as it was many hundreds of years ago. An ecological museum complete with original flour mill is open to the public. Should you explore further you will find ancient water channels and prehistoric hidden coves...