Minori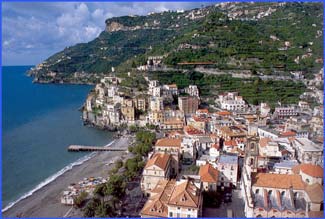 Minori placed in the middle between Maiori and Ravello, owes its name to the torrent Reginna Minor (or Reginuolo), which crosses it. It was inhabited since Roman times, as evidenced by the remains of the splendid Roman Villa. In the Middle Ages, it had a more than decent economic development, so much so that it was a diocese since 987, overthrowing Pope John XV, and divided history and destinies with neighboring Amalfi, with which it often rivaled. Small but charming village, with a beautiful promenade, enriched by a splendid 11th century fountain (the Fountain of the Lions), and a network of picturesque and animated alleys, Minori has been repeatedly ravaged by natural disasters and pestilences: particularly terrible the storm of 1597, which destroyed the walls and the main square. A visit deserves the Cathedral, which preserves the remains of S. Trofimena, venerated throughout the Amalfi Coast a remarkable seventeenth century marble pulpit. The baroque altar, in wood, of the church of St. Lucia, near the Benedictine Convent, is also interesting.
But above all, Minori offers the chance to visit the remains of a Roman Villa of the Augustan age (1 century), built on an area of ​​2500 square meters. The excavations began in 1932, and resumed after the flood of 1954 he buried her under a blanket of mud. The building was originally on two floors, but the upper one was lost. The ground floor remains, surrounded by three arcades and a nymphaeum, and decorated with frescoes and mosaics. Inside, a swimming pool, also from the Roman era, has been found.
The Roman villar is of great archaeological interest: it is the only evidence of the kind that survived in the Amalfi Coast, and allows some comparison to the thesis of the historians on the importance that it (and in particular Minor) covered during the dominion of Rome. After all, even the toponym, that is, the name of the town is of clear Latin origin, like the rest of the nearby Maiori. Indeed it may be appropriate to clarify that the accretive (maior, ie major) and the diminutive (minor, ie minor), do not refer to the importance or size of the respective countries, but to the extent of the streams that cross the center, and that they have the same name, Reginna: greater one (Reginna Maior), minor the other (Reginna Minor), although both terrible when they fall towards the sea in the winter season. And in fact both countries have been repeatedly devastated by terrible floods. Fortunately, today the progress of civil engineering has made this danger a mere memory of the past.